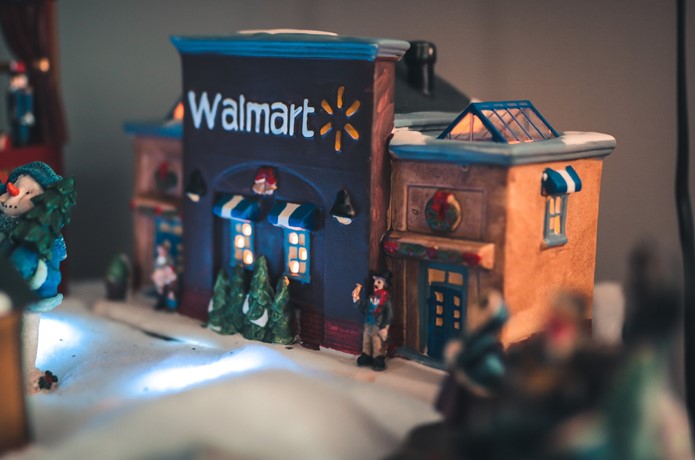 Mr. Sam's Walmart Empire in Uncle Sam's American Republic
MIND(s that filled) THE GAP(s) [V]
Samuel Moore (or how people liked to call him later on, "Mr. Sam") was born in 1918 in Kingfisher, Oklahoma, and lived there until 1923 with his parents, Thomas Gibson Walton and Nancy Lee Lawrence Walton. He had a brother, James Lawrence Walton, born in 1921, who later became a co-founder of the Wal-Mart business. 
The "versatile boy" Sam 
As kids who grew up during the Great Depression, Samuel Moore and his brother James learned what hard work really means from an early age, firstly by helping their parents with the farm they owned and, secondly, having to deal with jobs like delivering the newspaper or milking the cow and selling the milk. All these, while moving from city to city because of the small amount of money the family used to earn and needed to chase. At last, the family settled in Columbia, Missouri, where Samuel and his brother graduated from David H. Hickman High School. As a student, Sam was voted "Most Versatile Boy", a sign of his future business flexibility.
Dreaming about finding a better way to help and improve the condition of his family, he decided to go to University of Missouri as a cadet in the Reserve Officers Training Corps (ROTC). During the time he attended college, he worked various jobs and managed to distinguish himself through his academic life and extracurricular activities. He was recruited by QEBH, a well-known secret society at the university he attended, that was founded in 1898 and "whose proposes are known only by its members". Additionally, Walton served as president of the "Burall Bible Class".
He realized, while in military service, that he wanted to grow a business for himself by going into. Three days after he graduated college, he became a management trainee for J.C. Penney in Des Moines, Iowa, where he was paid $75 per month. Sam was really involved and enthusiastic about the work that he was doing, but he was not very appreciated for it. His activity was interrupted by his resignation in anticipation of being included in the US army for World War II. For the duration of the war, he served as a communication officer supervising aircraft and prisoner camps; he subsequently reached the rank of captain. By the time he finished his term of service, he had married and his wife gave birth to their first child. He decided he was going to start the business he dreamed of no matter the consequences and that is where it all started. 
First "stop" – the stores 
With the help of his father-in-law who loaned him $20,000, in addition to his army pay, Mr. Sam purchased his first store, a Ben Franklin variety store in Newport, Arkansas, at the age of 27, a franchise of the Butler Brothers chain. He always had many ideas that were crucial for his success and that helped him grow. After the envious landlord, P.K. Holmes, refused to renew the lease, Walton sold his business, but this did not stop him. In the summer of 1950, he opened "Walton's Five&Dime", that had the lowest prices in town and gained the same success as the previous store he owned. By 1960, he owned 15 stores, which did not dampen his ambition, so he thought of a way to attract more customers. He adopted a new strategy in which the prices were discounted dramatically in hope of earning more customers and making the competition as small as possible. He initially tried to implement the strategy for the Ben Franklin franchise stores, but he was refused, and so he decided to do it alone.
He opened his first Wal-Mart (shortcut for Walton Mart) in 1962 in Rogers, Arkansas, called "The Wal-Mart Discount City Store". His idea was to market American-made products and that included finding American manufactures that would agree to a price low enough to satisfy him and also the customers. Walton located shops in smaller towns to minimize the competition.
"If we work together, we'll lower the cost of living for everyone, we'll give the world an opportunity to see what it's like to save and have a better life", he said. 
Next "step" – the empire 
In the first year, Wal-Mart gained six more stores, followed by 13 in the next four years and reaching, by the end of 1980, a number of 276 stores. By 1983, Wal-Mart had over 8 billion dollars in sales. In 1985, Walton was named by Forbes Magazine the richest man in the US, with an estimated worth of $2.8 billion, but he did not seem to like it: "All that hullabaloo about somebody's net worth is just stupid, and it's made my life a lot more complex and difficult". By 1987, Walmart had become the third largest retailer in the US. In 1988, Sam Walton announced that CEO David Glass would take his place, but he will still be present as chairman. That was not entirely true because he loved what he was doing and was always active and preoccupied with the business.
In 1989, he was diagnosed with a severe bone cancer and refused therapy. However, he was a candidate for an expensive new drug named "interferon" that actually worked for a while. The cancer did not stop him from working.
He announced at the Wal-Mart annual meeting in June 1990 that "the company's revenue would quintuple to $125 billion within the next decade" and he was right – over the next years Walmart became the USA's largest retailer. "The highlight" was in 1992, when President George Bush rewarded him with the Presidential Medal of Freedom. That same year, he passed away at the age of 74, on the 5th of April, at the University of Arkansas Medical Science Hospital in Little Rock, Arkansas. He left an estimated $100 billion fortune to his wife Helen Robson and four children: Alice Walton, S. Robson Walton, John T. Walton and Jim Walton. 
Back to Mr. Sam 
In 1998, Walton became one of the people named in Time's list of 100 most influential people of the 20th century. A less-known fact: Hilary Clinton was the first woman ever elected to serve on Wal-Mart's board of directors. In 1984, Bill Clinton reached out to Walton in order to help rescue a manufactory in danger of closing. To help the business, he placed a $600.000 order for shirts and saved it.
By the time of his death, his company had gained "1,735 Wal-Marts, 212 Sam's Clubs and 13 Supercentres with a total of 380,000 employees", but Sam never liked showing off the money he had earned, so, despite the fact that he was the richest man in America, he drove a red Ford pickup and liked to spend time with his family, as a regular person would do. It was said that he loved his dogs and was never apart from them. He has a published autobiography called Made in America: My Story, where he talks about all the ideas and concepts of Wal-Mart and of entrepreneurship and also gives advice to everyone who wishes to start a business, no matter the age or social status. He was indeed one of the most successful businessmen who saw the bigger picture from the beginning and wanted to put the customers' needs first. He was ambitious enough to dare every time he failed, until he made it.
"There is only one boss. The customer. And he can fire everybody in the company from the chairman on down, simply by spending his money somewhere else". 
References 
Anon. n.d.
Dranow, A. 2014. corporate.walmart.com. Available at: https://corporate.walmart.com/newsroom/heritage/20140327/the-highlight-of-sam-waltons-career-the-presidential-medal-of-freedom
Walton, S. 1992. Made in America. s.l.:Bantam Books
Walton, S. 2012. Made in America. s.l.:Bantam
Walton, S. n.d. brainyquote. Available at: https://www.brainyquote.com/citation/quotes/sam_walton_657732
Walton, S. n.d. Goodreads. Available at: https://www.goodreads.com/author/quotes/1350.Sam_Wlton
https://en.m.wikipedia.org/wiki/Sam_Walton#cite_ref-rediff_3-0
https://www.google.ro/amp/s/www.entrepreneur.com/amphtml/197560
https://www.britannica.com/biography/Sam-Walton
https://m.youtube.com/watch?v=R_gSpEXv4Yo
https://www.google.ro/amp/s/www.biography.com/.amp/business-figure/sam-walton
https://www.thebalance.com/sam-walton-aka-samuel-moore-walton-358040